What Is Zapier?
Zapier is a service you can subscribe to that makes it easy to get data flowing between Net-Results and 100s of other web applications. Take a look at Zapier's App Directory to see if your apps are listed. Zapier makes it easy to connect your web applications with a few simple clicks, no coding required!
Available triggers and actions
First, we'll need to define what a trigger and an action is when it comes to the Zapier/Net-Results integration.
Triggers: Triggers are events that happen in Net-Results. They can trigger Zapier to take action for you in another app.
Actions: Actions are things you can have Zapier do in Net-Results when things happen in other apps.
Available triggers
Net-Results currently supports 3 Triggers:
A Contact is added to a Net-Results List
A Net-Results Form is submitted
A link is clicked in a Net-Results Email
Available actions
To get started, Net-Results supports 4 Actions:
Create a Contact in Net-Results (if the Contact already exists it will be updated)
Add a Contact to a List
Remove a Contact from a List
Adjust a Contact's Lead Stage
Setting Up Zapier
You will need to sign up for Zapier and also choose a price plan. Then, click here for the direct link to the Net-Results app on Zapier, so you can start your integration today!
When setting up zaps, Net-Results can be the trigger or the action, depending on what your goal is. Below we will walk you through setting up a zap where Net-Results is the trigger, and then where Net-Results is the Action.
Example Zap – Net-Results Trigger
When you choose to have Net-Results as the trigger for a zap, you'll see a webpage like the below: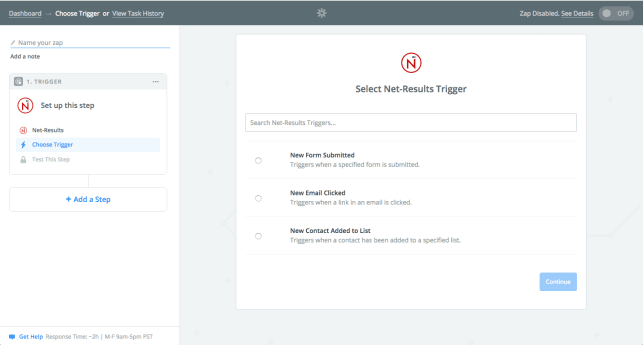 Choose whether you'd like the trigger be when a form is submitted, an email is clicked, or a contact is added to a list. For this example, we'll use when a form is submitted. 
Next, you'll want to connect your Net-Results account. Do so by selecting "Connect Account" on the next screen. Like the below:
Once you hit Save + Continue, you'll be taken to a screen where you can choose which form you'd like to create this Zap around.
After choosing which form, you'll now need to configure the action that you'd like to take place when this particular form is submitted. In this example, we are going to use Google Sheets as our action app.